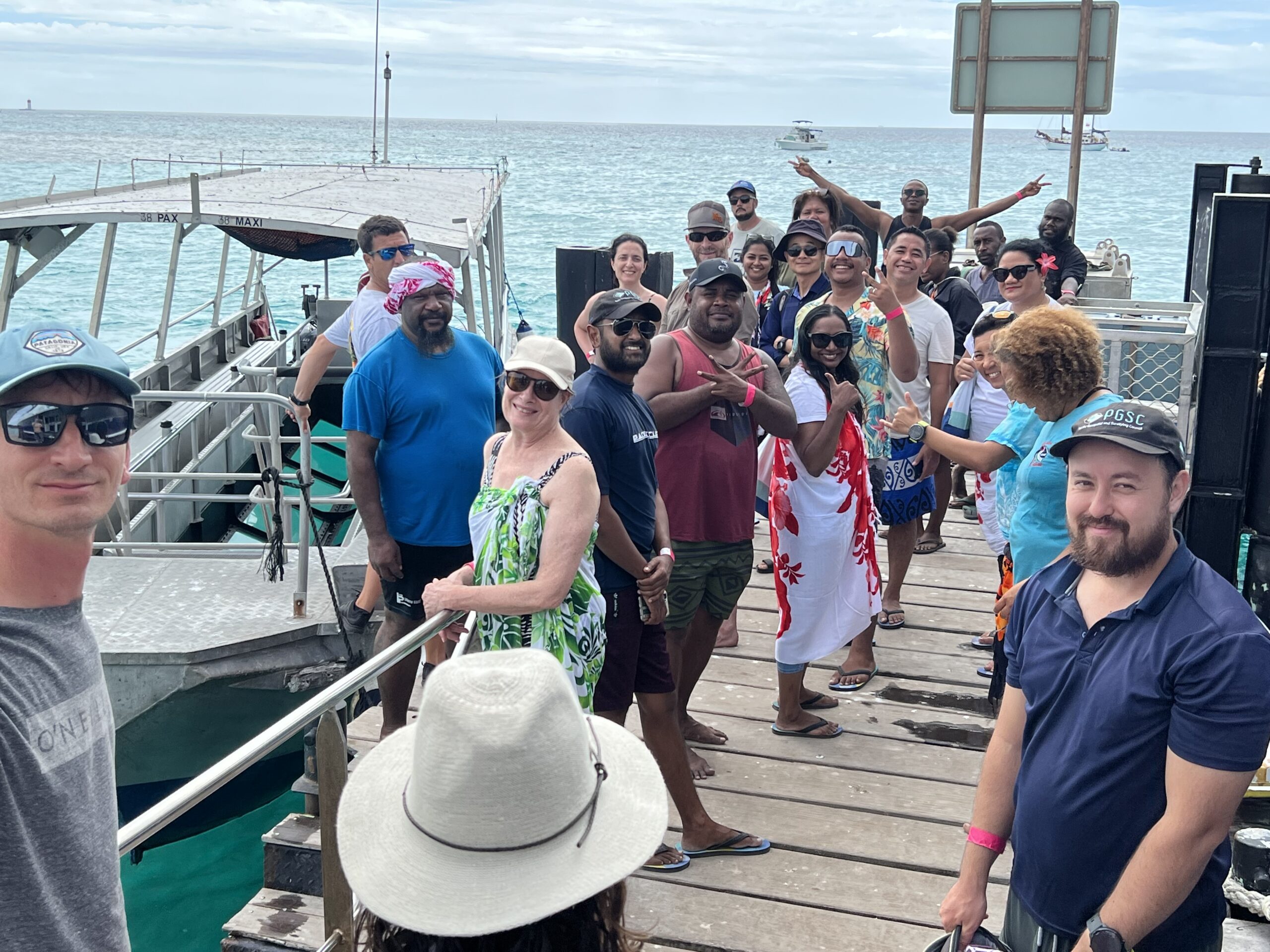 Today, the OGS exceptionally forgot about plenary sessions, technical presentations and other workshops for a day centered on cohesion on the mythical Amedee island! It was time for community-building, discovery and good humour on one of the most emblematic islets in New Caledonia!
A Caledonian well-known lighthouse
At the beginning of the week, the participants were given a pair of OGS flip flops. After all, while geospatial and the challenges it presents are eminently serious, our event was nonetheless taking place on a Pacific island! Flip flops had been timidly worn at UNC and SPC during the week, but on Amedee Island, no more excuses! The scientific presentations were exchanged for sunglasses, caps and swimming suits, just long enough to discover the incredible biodiversity of the place!
As well as being a protected natural reserve, Amédée is also home to one of the largest metal lighthouses in the world. It marks the entrance to the port, through the Boulari channel, between the large Aboré reef and the Kwé reef. Embarked at Moselle on the famous Mary D, the OGS 2022 crew arrived on the island around 10am. The morning activities included visiting the nature trail with a guide from the aquarium of Nouméa, climbing the lighthouse and snorkeling with the turtles! Things started to get serious with the opening of the famous Amédée's buffet at noon!
The OGS wraps up on Sunday
And after the traditional Tahitian dance show which delighted the assembly, the day went on with a glass-bottom boat trip to admire the numerous sea snakes, parrot fishes and turtles from the front row. Other marvels to be contemplated, the artisanal and local creations exposed especially for the occasion on Amédée Island. The return to Noumea was scheduled for 5pm, with the participants visibly pleased to have enjoyed the Caledonian way of life during an island outing! Tomorrow, the OGS will draw to a close after a final session of workshops organized at UNC. On the menu: search for solutions based on Open Source tools, setting up scope of regional projects with decision makers and supporting organizations, and the wrap up of the Ocean Hackathon at the OoTECH business center. From 4:30 pm, the curtain will be definitively drawn on this week of sharing and reflection with a closing ceremony held once again at UNC.
One thing is sure, this Sunday will not be idle!