Oceania Geospatial Symposium

STAY IN TOUCH with OPT-NC!
As a key partner of our OGS initiative, the NC Posts and Telecommunications Office (OPT-NC) provides each participant with "Tourism cards", prepaid SIM cards, so that everyone can have a connection through mobile network and stay tuned with other participants as well as with their family throughout the week of the symposium. A huge advantage that will simplify your life!
WHAT IS THE TOURISM CARD ?
It is a prepaid mobile plan from the Mobilis network, intended for travelers. It comes in the form of an all-in-one kit that includes :
A SIM card with a Caledonian number
A user guide translated in French, English and Japanese
An ejector PIN to facilitate the insertion of the new SIM card
Convenient and easy to use, the "Tourism Card" was designed to help you during your stay. 
It contains the necessary information for its use and comes in the shape of a pouch allowing you to store the SIM card of your usual operator. Valid for 3 months, you can recharge it as many times as necessary to stay connected!
I can call local and international phone numbers.
I can send text messages to local and international phone numbers.
I can have the Internet on my smartphone.
More information on Tourism Card on https://tourismcard.nc/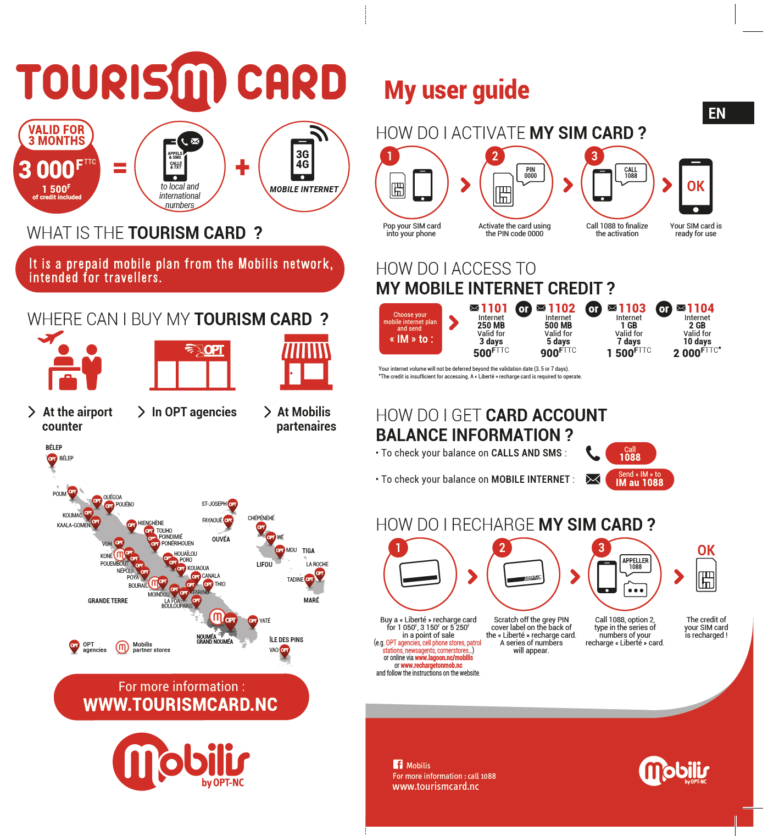 About OPT-NC
The New Caledonian Posts and Telecommunications Office (OPT-NC) is a public player in the field of planning and economic development, carrying out public service missions and endowed with an entrepreneurial spirit serving New Caledonians. OPT-NC is also a key player in the territory's digital and innovative ecosystem, providing active and unfailing support to community initiatives such as the OGS. More information on https://office.opt.nc/en